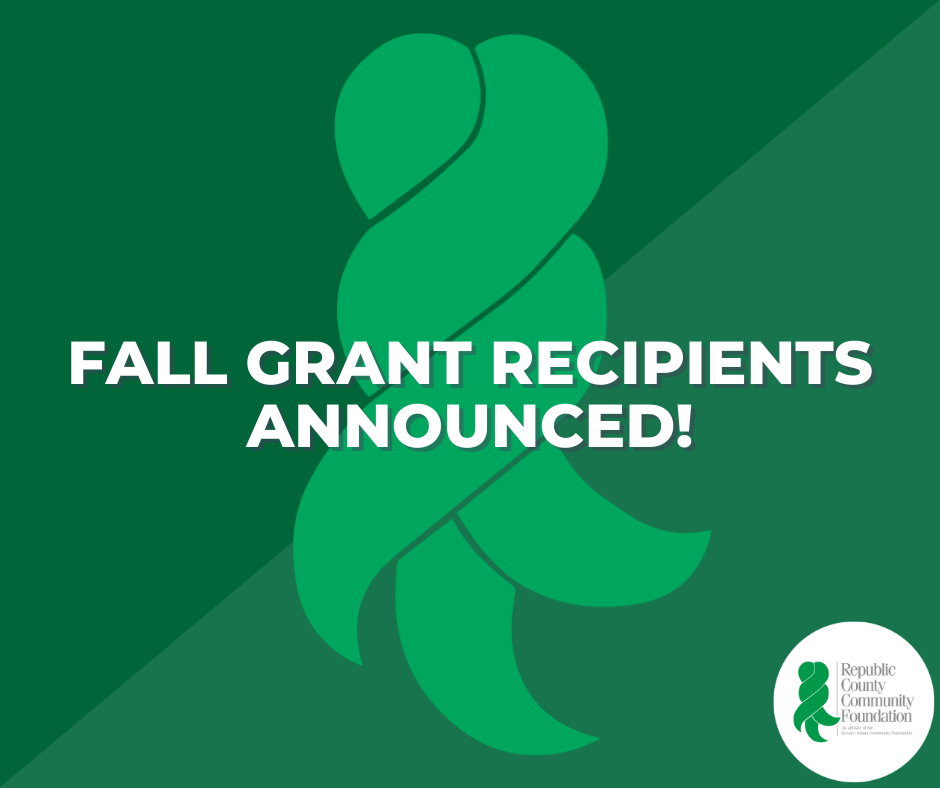 Republic County Community foundation awards over $43,000 in fall grants
Republic County Community foundation awards over $43,000 in fall grants
BELLEVILLE, Kan.— During its fall grant cycle, the Republic County Community Foundation awarded over $43,000 to 10 projects throughout Republic County. The following organizations received funding:
City of Republic, $5,000 to replace the furnace and air conditioning, along with caulking for windows, paint for metal window frames and fixing a leak in the roof at the Republic Community Center.
Courtland Pride Club, $2,253.67 to purchase a new Lifeline AED to replace the old one.
Blair Center for the Arts Foundation, $4,500 to purchase a new audio processor to replace the one that is currently failing.
Republic County 4-H Council, $4,743.52 to repair the 4-H building roof on the NCK Fairgrounds.
Smoky Hills Public Television, $500 to provide books to children enrolled in Head Start in Republic County and defray the costs of educational television programs for children in the area.
USD 109, $767.56 for the purchase of four DuraSteel Stainless Steel Worktable for the FCS room at Republic County Junior/Senior High School.
Republic County Hospital, $12,224 for the purchase of a Panda Infant Warmmer for help provide uniform care and ensure clinical confidence.
Republic County Historical Society, $8,495 for the purchase and replacement of a document scanner, new computer, and printer/copier with updated features and capacity.
City of Courtland, $4,500 to finish the rest of the Grant Street sidewalk project that was unable to be completed due to budget constraints for a safer walking environment for our school kids.
Pawnee Mental Health Services, Inc., $920.27 to expand the resources that our clinicians use with the purchase of workbooks, therapeutic card decks, in-session exercises, and homework activities to help therapists support clients.
This round of grants was made possible by five funds at the foundation: the community foundation's Dane G. Hansen Community Grant Fund and the Republic County Action fund, which both support projects and programs that improve the community's quality of life and the Republic County Health Fund, Kansas Health Foundation Fund for Republic County and North Central Health Care Foundation, which all support the public health of Republic County.
The foundation's next grant cycle opens February 15, with online applications due April 15, 2022. For more information, visit http://republiccountycf.org/search-apply-for-a-grant/.